Sunday, February 27, 2005


The weekend is winding down to an end... We had a very enjoyable time this weekend at my sister's house. I finally reached my goal! I started AND finished an album! It's a small album, but it is finished. Well, minus the journaling, but I will do that tonight yet. I always have a goal when going into a weekend of scrapbooking, but rarely do I reach it. Maybe it had something to do with being organized BEFORE the weekend and not spending hours organizing and planning once we begin. I knew exactly what I was going to do and I had all my photos in order. A weekend well spent! Hopefully we'll be doing this again in a few weeks; gotta just check my calendar.

This week's Monday Madness questions are posted if you're interested in playing! It's all about time. Please go check it out.

February is almost over and that means new calendars. I've got 3 made so far and I'll be making 3 more in the next couple of days.

...found this at Bryn's and you know me! I had to find out!




I'll leave you this evening with another quote. And I wish you all a grand week!

"You can enhance your own spiritual growth by contributing to the growth of others."

feeling...
Friday, February 25, 2005


I really wish I could pack this snow up and send it off to my friends who don't get to "appreciate" it like us folks in Michigan! I'm leaving for my sister's house soon to spend a weekend full of scrapbooking and fun, and it won't stop snowing. So far, the roads are just wet though, so I can handle that. I'm not THAT much of a wimp.

Many people need our prayers daily, this I know. I'm asking for your prayers today for a newborn baby that only weighs 14 oz. She was born more than 3 months early. Her name is Loren. Also, there are a few bloggers out there that really need our prayers too. Please stop by and let them know you'll say a prayer for them. It only takes a moment....
~ellen
~cj
~dawn
....just to name a few. Thank you.

Now for a little thought to ponder:

"The essential elements of good character can be summed up in ten words: compassion, courage, faith, friendship, honesty, loyalty, responsibility, humor, perseverance, and dedication."

feeling...
(Pics of the installation of the new bishop to come soon, I hope! I only got a couple good ones.)
Have a wonderful weekend!! =)
Tuesday, February 22, 2005


"A gravatar, or globally recognized avatar, is quite simply an 80 by 80 pixel avatar image that follows you from weblog to weblog appearing beside your name when you comment on gravatar enabled sites. Avatars help identify your posts on web forums, so why not on weblogs?" Thanks, Wanda, for pointing me to that website. I plan to make one of my own so I can use it when I leave comments.

Now, about that snow........I really really really WISH I could send you fine people that snow we have here. I could live without it! I don't mind it every once in a while, and when I don't have to drive in it, but the winters here just seem to go on and on. I'm sure it's the longest season we have here in Michigan. Now if anyone can figure out a way to package this cold wet white stuff up, please, come forward!! =)

Here I am, all ready to watch "The Amazing Race" at 8:00 and I find out it's not on until next Tuesday. Well, I'll be finding other things to do. Yesterday I printed out nearly 100 pictures for my daughter in preparation for our scrapbooking weekend; now I have to print some out for me. I've got tons of pictures for the years 1994-1999 that I probably really should be concentrating on, but I want to do something a little more recent so I plan to start AND finish my San Diego album this weekend. (I'm crossing my fingers!!) THEN, I will go back to 1994 and continue getting those pages in order.

I hope you're all well and keeping safe. I'll leave you with another fine quote from my desk calendar.....

"Courtesy and a tolerant, uncritical awareness of others will immediately reward you with a warm response from friends, family, and even from strangers."

P.S. Does anyone want to join my webring??? I'm the only member so far. *sigh*

feeling...
Monday, February 21, 2005


I posted the pictures of the snow we got yesterday, finally! I only posted 5 because the last one I took at midnight it had already stopped snowing. Some of them are a little crooked but please be patient with me, as I was trying to prevent my camera from becoming waterlogged! It was snowing right in my direction. Have a marvelous Monday!! =)


Sunday, February 20, 2005


I'm such a geek. Since it started snowing at around 9:00 this morning and it's supposed to snow through the night, I decided I was going to take a picture of the falling snow every 3 hours. So far I've got 4 pictures. I'll take one more at 9:00 p.m. and possibly one at midnight. I doubt I'll be going to work tomorrow because it's kind of a rule that if the school accross the street from our church office is closed due to inclement weather, our office is closed as well. I'm going to take advantage of it and stay home and enjoy!! I do pray though, that everyone who DOES have to drive in this nasty weather, gets to their destination safely. Leave early and don't worry about getting to work late. NO job is worth risking our lives for!

So I'll be posting pics this evening yet. For now, I'm going to print out pics for my daughter in preparation for our weekend crop at my sister's house next week. I've got some pics to print out for me too, so I'll be sitting at this computer for awhile tonight. My daughter and I spent about an hour looking through scrapbooks that we've already completed and it was so enjoyable. She started scrapbooking at the age of 8 and now when she looks at the pages she did back then she cringes. I told her that she is so lucky to have had the opportunity to preserve her photos in acid-free albums at such a young age. I really enjoy looking through her pages and how she journals in them. And it's interesting to see how her style has changed through the 7 years she's been doing this. Each person's personality really shows through their work and it's something our children, grandchildren, etc. will be grateful for, I'm sure.

Thought for the day.....

"Hugging keeps you healthy. It evaporates stress, depression, and anger. It strengthens the immune system, leads to a better night's sleep, and rejuvenates and invigorates the spirit. It is one hundred percent organic. It's free, it's nonpolluting, and it can be returned without a receipt."

feeling...
Saturday, February 19, 2005


Does anyone know which reality show Amber and Rob (winners of the last 'Survivor') are going to be on? I thought I heard something about them being on a show coming up soon. I don't think they should be allowed to be on any more reality shows, I mean they already won a million dollars; what more do they want???

I think I have my graphic finished for my new webring. It's going to be called "Original Pixel Artist" webring. Now I just have to set up a page for it; my project for today! =)

Here's the image I'll be using for the webring:





...with president's day coming up, I think I'm feeling...

Wednesday, February 16, 2005


All is well; My mom had her second knee replacement surgery done yesterday and she's doing fantastic! She'll be coming home on Friday.

Next weekend my daughter and I (and as many other sisters that can) are going to my sister's house for a whole weekend of scrapbooking! I'm looking forward to it; it's been so long since I've done anything with it. I wanted to take Monday off from work so I could print out a bunch of recent photos but it seems I'll be the only one in the office that day so I guess it won't be happening. Thursday would be my second choice, but we're going to the bishop's installation that afternoon. *sigh*

I've made more bear moods if you want to check them out. I have 39 so far and 3 more that aren't quite done yet; look for them soon!

I'm working on another webring and hope to have it done and ready for members by the weekend. (I know I'm wishful thinking here....) It's going to be for 'pixel painters' or something to that effect; maybe 'original pixel art.' I'll think of something to call it.

Who's going to be watching Survivor tomorrow night?? I am! I'm actually looking forward to it. Well, I'm out of here. I want to go visit some blogs, then try to finish up my logo for my webring. Have a wonderful evening!! =)


"Relax in winter, knowing that in order for trees to blossom and bear fruit, the resting stillness of dormancy is a necessary part of growth."

feeling...
Monday, February 14, 2005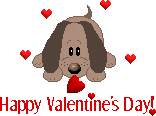 "Savor the fingerprints on windows and walls of the home, for they are love notes scribbled around the margins of the family's heart."


feeling...
Saturday, February 12, 2005


How's everyone's weekend going so far? It's sunny here but I haven't been outside today so I've no idea how warm it is. I just got done getting rid of dead links on one of my pages and it took about an hour or so, but time well spent in my opinion.

Hey, do you want to do something cool? Find out your birth number! Once you figure out what your birth number is, post a comment here and I'll send you a brief summary of what it means. Here's what you do...

To figure out your birth number, add all the numbers in the birth date together, like in the example, until there is only one digit. A birth number does not prevent you from being anything you want to be; it will just color your choice differently and give you a little insight.
Example:
March 20, 1950
3 + 20 + 1950 = 1973
1 + 9 + 7 + 3 = 20
2 + 0 = 2

Keep going until you end up with a single digit number. 2 is the birth number in the example.

Don't forget to let me know what your number is! =)


Thursday, February 10, 2005


Thanks to everyone for your well-wishes! I am feeling MUCH better! And thanks to all who let me know when 'Survivor' is starting up again. It's the one reality show I can't seem to miss.

A lot of things have been happening here lately; mostly work/church-related. Let's see, where do I begin??

Last Thursday, my boss called a special staff meeting to let us know that she's been nominated for leader of her Province in Evansville, Indiana. She's got a 1 in 4 chance to be chosen. Apparently the voting (by 200 of her peers) has already taken place and the results have been sent to Paris. On February 24th she finds out if she's been chosen for the position; if so I believe she'll be leaving us in April. February 24th is also the installation of our new bishop and I'll be attending, along with several hundred other people from the diocese (and who knows where else...) I really didn't want to go, but after speaking with my mom about it, I realized it would be the best thing to do, so I have my invitation in hand. I have decided not to attend the reception afterward though, and I'm comfortable with that decision. I talked to my boss about it and she has no problem with it at all.

One of the elementary schools in our diocese is 'downsizing' so to speak. Apparently the lower grades will continue to attend the school they're currently attending, but the higher grades will be sent to one of the other Catholic schools in the diocese. I'm guessing the church is probably going broke trying to support the school. Makes me wonder how long it'll be before it closes altogether.

It'll be interesting to see what our new bishop has planned for the churches and schools in our diocese. Time will tell........

I'll be back later to answer Monday Madness. We've had no problems with our internet since Tuesday evening. *crosses fingers* =)

Hope you're all well! That flu is a nasty, nasty thing!! Don't catch it!


feeling...
Happy Birthday, Jan, my little seeester!
(go on; send her some good wishes on her special day!)
Monday, February 07, 2005


Why did I think 'Survivor' started this week?? Anybody have a clue when the next episode starts?

I'm feeling a bit better; of course I haven't missed any WORK because of my illness. I thought about calling in today just to give me an extra day of rest but that thought flew out of my head as fast as it entered. When I walked into my office this morning, it was really cold in there. (It's always cold because we turn the heat down to 60 at the end of every work day, but today it was REALLY cold.) About a half hour after turning my heat on I realized there WAS no heat....in the whole building! After making a few phone calls in an attempt to save our church some money, I decided I had no choice but to call the guy that maintains our boiler. He tells us that it could be 3 hours or maybe 3 days before we have heat. By this time it was almost noon and the rest of the staff had decided to go home. I wanted to go home but it would have been a waste of time and gas, so I decided to try to just work until my daughter had to be picked up from school. Well, I only stayed until about 12:45, then went to visit a friend that lives close to where I work. We had a nice visit, but I still never really got warm until I got in my car and turned the heat way up. NOT what I needed today!! I guess we're supposed to have heat tomorrow... Yay.

Oh yeah, yesterday we had no internet from 5:30 p.m. on..... THAT really made my day. I spoke with a technician today and he said if we lose our internet connection tomorrow again, he will schedule a service call. Gee, I requested one of those a while ago.

I'm really not in a bad mood.....really! =)

Tomorrow is BLOG-HOPPIN' Day!! I haven't been visiting my favorite blogs as regularly as I'd like, but I do plan to do just that tomorrow!!

So anyway, please, if you know when 'Survivor' starts up again, let me know!! Thanks!


feeling...
Saturday, February 05, 2005


Alright, who's been spreading the nasty flu around??? I've been feeling under the weather for the last couple of days and I don't much like it. I don't have TIME to be sick, you hear??? I've got much more important things to do. I did go out to the store today with my daughter (who I think really does enjoy spending time with me; she actually told me one of her friends has a 'mother-daughter' day every month...do you think that was a hint???) to pick up a few necessary items. I was about ready to head for home and she said, "Mom, I don't want to go home just yet, can we go somewhere else?" So we took a little detour to Linens and More. What a neat store that is! All we bought though, was a pack of 100 votives for $5. We had a wonderful time looking around, and we even got to spend some quality time together. I'm sure going to miss her when she goes away to college in a few years.

Hope everyone is feeling well and enjoying this lovely weekend!! Don't get sick!! =)


feeling...
Thursday, February 03, 2005


7:50 p.m.
When IS the last time I blogged?? Actually, I haven't had much to blog about lately; don't know why, but I haven't felt like writing anything.

We went to Frankenmuth last night to see how the sculptures at the Snowfest were coming along. I got some pretty good shots; most of the blocks of snow were JUST beginning to take some kind of shape. We might go back out there tonight to see how things have progressed in the last 24 hours. The weather's been excellent so far for this event, but I understand it may get as warm as 45 degrees tomorrow and through the weekend; possibly warmer. That could put a damper on the ice sculptures!

I'm thinking about making the Friendship Wall available to anyone who wants to participate. No new members lately and sometimes it's really difficult to keep updating regularly, so my idea is to invite anyone who wants to create a friendship wall of their own, can, without having to join a group.

10:50 p.m.
We went to Frankenmuth tonight. There were quite a few people walking around; of course I think they had the beer tent open, so that always attracts people. Some of the sculptors were working, and surprisingly enough, a lot of them were drinking beer too. We didn't see any ice sculptures yet; just snow sculptures so far. I'm not sure how they're going to display the ice this year, unless they keep them all covered, away from the sun. If they temps get as high as they're predicting, nothing is going to stay frozen for long.

I'm outta here, folks. I noticed my blog is loading really slow today. I think it's got something to do with the referrers list. Tomorrow I'm going blog-hopping and I'll probably work on some more calendars, maybe some adoptables. We'll see how the mood strikes me. I hope you're all enjoying your week! Take care! =)


feeling...
Wednesday, February 02, 2005


Nothing new; nothing exciting to report....just wanted to take a quick moment to share this, one of my favorite quotes;

"We are all faced with a series of great opportunities,
brilliantly disguised as impossible situations."


feeling...