Friday, December 31, 2004


Just Monday this scene was snow-covered. (Look 2 posts below...) Today it was 54 degrees and all the snow is just about gone. Hard to believe, eh?

I hope you all have a safe and enjoyable New Year's Eve tonight. Please don't drink and drive, and let's pray for some peace in this world of ours in the coming year.
feeling...
Thursday, December 30, 2004


Almost Gone...

Another calendar year coming to an end. I can't believe how fast these years are slipping away. I hope you all have things to be grateful for this past year and that the coming year brings good things your way! I'll be on later to add a little New Year's graphic. I've actually spent some quality time on my computer today (for the first time since we moved). I'm off to see what I can create! Enjoy this day! =)


feeling...
Tuesday, December 28, 2004


It was a beautiful winter scene yesterday morning.....this is just one of the pics I took. Now THIS kind of winter day I can live with!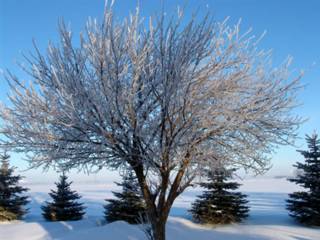 I hope you all had a blessed Christmas and that you were able to spend it with loved ones. Our family Christmas gathering was really nice; only one sister was unable to be there. Might be because she lives in CA!! =) But
Jan
, you KNOW you were with us in spirit! (Ho, Ho, Ho!)
I'm still working on my
26 Things Christmas
, and guess what?
Andrea
already has hers posted! Yay, Andrea! Anyone else??
We've got a new member over at the
Friendship Wall
. Welcome,
Bev
! If anyone is interested in joining, feel free to click on the above link. We have a 'theme of the month' and encourage all members to participate (hint, hint for anyone reading this who is a member and feels the urge to make some new patches). =)
Have a great day! I'm off, so I know I'll be enjoying myself! Tomorrow I have to go in to work for a little while, but I think I'll take a half day off next week to make up for it....
feeling...
Sunday, December 26, 2004


Just returned home from church; will be spending the day with my family. It's our annual family Christmas gathering and it's always fun and there's always LOTS of good food! Because I'm not sure what time we'll be returning from my parents' house, I will post this week's Monday Madness questions very early today... Oh yes, I want to thank my seeester, Jan for coming up with the questions!! Thank you, my seeester!! =)

Y'all have a wonderful day. The sun is shining and it's above zero degrees!! Yay!


feeling...
Saturday, December 25, 2004
Merry Christmas, one and all! May you be blessed with joy, peace and love!
Friday, December 24, 2004


Christmas Eve...

We took a ride to Frankenmuth this evening and I just have to share with you one of the pictures I took. It is really beautiful there this time of year. Of course you already know that Bronner's is located there, don't you? It's the world's largest Christmas store; yes it is! Anyway, this picture probably doesn't do their display justice, but it is truly beautiful in real life! I'll get more pics up tomorrow. (Yes, I know I was going to post choir concert pics as well; I still will.) This is what I wish for....


Thursday, December 23, 2004


2 Days Before Christmas...

I'm not sure if I blogged about it or just complained about it in person to those who are 'fortunate' (he, he) enough to know me well, but my daughter, who happens to attend a Catholic school, was scheduled to have classes today. Now keep in mind that we Catholics do celebrate Christmas; also, the diocese is closed today because Christmas falls on a Saturday this year and they have to give us Christmas Eve and Christmas day off, so they decided to close today and tomorrow. Oh, and by the way, to my knowledge, there was no other schools in session today in our area; none! Ok, now that you have the necessary details, I'll continue...

Yesterday when I came home from work, my daughter tells me that they have no school today. The principal made an announcement that because he heard we're supposed to get bad weather overnight, he's decided to close school the next day. Can you believe it?? He didn't even have the nerve to be honest to these kids. Of course they all knew why he was really cancelling school; most of the kids weren't planning on going because their parents all thought it ridiculous. I'm sure word got out and the principal knew that if they didn't have at least half of the kids there that day they would have to cancel anyway. I still think he should have told them that because the diocese was closed, and all the Catholic elementary schools were closed, that he had decided to close too. Oh well, end result: no school. I was very glad to hear it. Was my daughter planning on going to school today? Yes.

Time to catch up on some things I've been wanting to do for awhile...

Lulu, from Lulu's Lines asks us to complete the following:

THE CHRISTMAS HOLIDAYS... is something I look forward to every year. I enjoy the preparations and the weeks leading up to Christmas. Also, since I've worked for the church, I get to enjoy a week off between Christmas and New Year's Day. (Just helps me enjoy the holidays all that much more!!) =)

Bryn wants to know:

1) When it comes to decorating are you Clark Griswold, Martha Stewart or Ebenezer Scrooge? Oh my. I KNOW I'm not Ebenezer Scrooge, but probably not totally Clark or Martha either. I'd like to think I'm right in the mid-range between the two. I love lights, the Christmas decorations and all, but I'm quite sure I don't do it up as elegantly as Martha.
2) Do you have to have a real tree or do you prefer an artificial? I prefer real. When we lived in our last apartment though, we had an artificial and it was still nice. I just like the tradition of getting out there and picking a tree, bringing it home and trying to make it stand up straight!! =) We've had one tree fall over because it was so lopsided, but it's always fun to laugh about it afterward. The memories are priceless.
3) Do you use all white lights on your tree or are you a multi-color decorator? Do the little lights twinkle? I love multi-colored lights, although I've seen plenty of trees with all white and they look very elegant. No, my lights don't twinkle. I prefer them to be on steady.
4) The final touch to any tree is the topper. What do you put on the top of your tree – - star, angel or other? We used to put a star on top of our tree, but when my daughter was in second grade, she made this little angel with her picture on it and since then, that is what we top the tree with.

Now for a little Monday Madness:

1. From Becky... How did you learn about computers? Were you self taught? Pretty much self taught. Of course I have family members who have helped a great deal when it comes to learning anything computer-related, and then there's all the tutorials I've spent hours learning on, but I think it still qualifies as being self taught. Some of the stuff I actually did learn by trial and error and practice, practice, practice!
2. From Tom... What is your favorite color and why is it your favorite color? Right now it's a tie between dark green and burgundy. My current favorite color isn't necessarily always my favorite color. I like those two colors because the are rich and beautiful.
3. From Olivia... What one thing going on in the world right now, has the most effect on you personally? I think everything going on in the world has an effect on me (and all of us). I can't choose one over the other right now.
4. From Barb... If you were going to develop your own meme, what kind would you create? This one's easy; the one I am currently running, Monday Madness. It's a potpourri of questions. You never know what type of questions you might find each week. BUT, I've been thinking of starting a new meme, and it would be a word-related one. If I ever get to creating it, you'll all be the first to know.
5. From Sherle... Why do you enjoy answering memes? I can give me something to write about, and also, sometimes the questions make me think about things I may not have thought about otherwise.
6. From Teresa... What is your wildest dream? Probably to own and operate my own business. It WILL happen one day.
7. From Mz. Em... Why do you answer these questions? My apologies to all who played this week; this is more or less a repeat of question #5. SO, see answer to #5.

Please have a good day and stay warm and safe!! =)


feeling...
Tuesday, December 21, 2004


My car is fixed! I have heat and my temperature gauge works! It WAS the thermostat; thank you to all who offered suggestions. Cost: $50.00; well worth it! Now I don't have to freeze on my way to work in the morning!

As I was visiting blogs the other night, I ran across this over at wild fl0w3r's. My score was 92% in 291 seconds. Hint: Be as accurate as you can. What's your score??

Also, CJ has a couple of cute jokes over at her blog. Check them out, and while you're at it, send her some holiday wishes.

I've been working on my 26 Things Christmas, and of course the easiest way for me to do this is to carry my list with my camera everywhere I go. This morning I was printing out Christmas cards and I thought, "Oh, what a great idea for the word 'preparation!'" I snapped a picture of my printer with a card being printed and looked at my list; guess what? There IS no such word on the list. Guess what else?? I'm adding it myself. I will post 27 things and it will include my interpretation of 'preparation.' I really think it should have been listed.

I believe I'm done shopping now. I snuck out of work this morning for a half hour and bought the last item for my daughter, and even found something for me! Gotta love the pre-Christmas sales!!

We were supposed to get 2-4 inches of snow this evening with winds gusting to 35 mph. It looks now like the snow will miss us; the wind is still blowing but the temps are going to rise throughout the evening and we'll be enjoying a heat wave tomrrow of 34 degrees! They do have snow in the forecast for the next 4 or 5 days so chances are good for a white Christmas. For all of you who have no idea what it's like to have a white Christmas, please take my word; yes, it is beautiful to look at, but it is cold and difficult to drive in, so count your blessings and enjoy your Christmas with no snow. =)

Time to sign off for the evening.......take care, and have a great Tuesday!! =)


feeling...
Saturday, December 18, 2004


Thursday night was the Christmas Concert at my daughter's school. We really enjoyed it. The school concert band and concert choir performed, as well as one of the feeder school's bands. They announced that this year's choir is the biggest ever. They sang beautifully and the band, for as few members as it has, sounded great too. Of course I took pictures (which I will post a sampling of later today).

Apparently our temps are supposed to drop into the single digits later today, and tomorrow, possibly into the negative digits. Brrrrrr! I don't like winter! And my car is heating up like it should. We drove into town last night (a 1/2 hour drive) and it never really got warm inside my car. Not sure what the problem is but my temperature gauge doesn't work either. I wonder if these two things are related...

Not much else to say today....Hope you're staying healthy and warm! Have a spectacular Saturday!! =)


feeling...
Wednesday, December 15, 2004


The stores are getting really packed now; 10 days before Christmas. We went to get my daughter some shoes for tomorrow night's choir concert and there were so many people out already at 3:30 this afternoon! Yesterday, as soon as I got home from work, Alex and I went Christmas shopping. She wanted to go with me only. I was touched. Although she'll never come right out and say it, I think she still likes to spend time with her old nerdy mom; makes me feel good.

The day before yesterday I swore I wasn't going to do any work when I got home, but I remembered a couple of projects I'd promised to do before the end of this week, so guess what? I didn't get to play on my computer after all. I got one of the projects completely finished and now I have one to finish up tonight. I just know things will slow down soon.......right???

I've got just a bit more Christmas shopping to do and I'm seriously thinking about going out late at night (since a lot of the stores have extended holiday hours), or taking a couple hours off in the morning one day next week to get it all done. Can you tell I don't like crowds? Crowds might not be too bad, but there are too many rude people these days and it puts me in a mood.

Well, I'm off to finish my project. Have a restful evening!! =)


feeling...
Monday, December 13, 2004


I'm getting impatient; impatient with Blogger, with my internet connection (not as often as at first though) and with my time management (or lack thereof). Other than that, life is good!

We've got snow, we've got wind and now we've got drifts in the road. I probably won't be driving to work tomorrow morning; the other half will be 4-wheeling us into town instead. I'm not that old but driving in the snow and blowing snow really makes me tense. I know one shouldn't be paranoid while driving in inclement weather, but I do believe I'm on the verge. So to make everyone's world a better place to live, I will refrain from driving in this stuff.....and winter has just begun. Yuck!

On a lighter note; I've got only 7 more working days before I am off for a whole week and 2 days!! Woo hoo!! I am SO looking forward to that! I can hardly believe Christmas is only 12 days away. Are you done shopping?

I had plans to update my sidebars a bit with some links (maybe I still will tonight). If not, look for updates tomorrow. I refuse to do any work tomorrow when I get home! I'm going to sit here and have fun!

Stay warm and drive safely!! AND have a terrific Tuesday! =)


feeling...
Friday, December 10, 2004


I've only one thing to say about this week's episode of 'Survivor' (so in case you haven't seen it yet, I won't be giving anything away). And that one thing is YAY!!!

Since I'm the moderator of Monday Madness, I thought I might answer this week's questions. Plus I really needed to sit down and blog for a break from my evening full of work! (wah!!) =)

This week's questions were submitted by MM participants. You have no idea how much I appreciate your suggestions!! 3 more weeks when I don't have to come up with them all by myself! Yay!

1. From Briar... and Sherle... What's your favorite TV show and why? Currently, it's 'Survivor' but when that's not on, I like to watch 'According to Jim' and 'Still Standing.' Believe me, I don't watch much television but when I do I like to be entertained!
2. From WickedSway... What's your sign? Gemini
3. From Beth... Why is common sense so uncommon? Oooh, this is a hard one. I'd have to say because people tend to 'go with the flow' rather than thinking things out for themselves. I wish there were more people with common sense AND brains! =)
4. From Bug... What are 5 (or 10) great things about your life partner? generous ~ sense of humor ~ kind ~ patient (now) ~ and several other things I'm rediscovering
5. From Elena... Why do you blog? Are you a writer at heart? Is it a passion? Or because it's en vogue? Well I'm no writer, but I like to write about things that are important to me or things I'm interested in; sometimes I do use my blog just to vent about something. It's become one of my favorite things to do in my spare time now (as well as visiting others' blogs).
6. From Lady Starlight... How much wood could a woodchuck chuck if a woodchuck could chuck wood? I'll just take a gander.....lots!!!
7. From tmk... Fiction or nonfiction? Fiction
8. From Moody... If you were an animal, which animal would you like to be, and why? An exotic bird. I think it would be fun! AND they're very well taken care of.

Ok, time for bed once more. The weekend is almost here and I'm hoping to get a lot more organizing done. Little by little things are coming together. I'm going to try to make a point to go blog-hopping too! AND take some pictures for the photo scavenger hunt.......Enjoy your Friday!


feeling...
Wednesday, December 08, 2004


I want to share a wonderful site with you.... Sherle's Heart Smart Recipes. 'Tis a beautiful site to visit, you can find a TON of recipes there, links to all kinds of other sites, and Sherle is adding recipes on a regular basis, so be sure to check back REGULARLY!! I will definitely be adding a permanent link to her site here in the very near future.

I have no time to be on my computer these past several days.....and when I do get a chance, we sometimes have no internet connection. I'm not trying to be pessimistic, just honest. The down time seems to be less often and for shorter periods of time, but it's still happening. Let's hope things improve soon! The only way I can look at it all is that because we've just moved, I have so much work to do that being unable to connect to the internet makes me focus on what really needs to be done. Yeah, that's about as positive as I can get right now. I know, things will get better, and get done. I'm keeping my head up.

Have a wonderful Wednesday, everyone! I hope to be around more soon! =)


feeling a bit...
...right now
Sunday, December 05, 2004


We JUST finished up cleaning the place we moved out of and now it's time to organize this place....Remember, we started this move on Tuesday; yes, 6 days ago!! It will get done though, eventually. I'm guessing it'll probably be real close to Christmas before we're completely settled here. NOT a good time of year to move....

Don't forget; the 26 Things Christmas is going on now. I'm definitely taking time to participate in this one. I had good intentions for the last '26 Things' but I never followed through on it. So it's a goal of mine to get some really good pictures this time!

Gotta go! Lotsa work to do!! Oh, but please consider taking a moment or two to check out this week's questions at Monday Madness. All questions are from MM participants.

Have an excellent week! Take care and be good!! =)


feeling...
...at how much work I have yet to do!
Friday, December 03, 2004


I think I'm back!

Well, for a while, here and there. I've still got so much to do as far as organizing, cleaning, and unpacking.....I just want to be done with it all! Thanks for all your well wishes; much appreciated!

As far as the internet goes, we signed a contract with SpeedNet on Wednesday afternoon. I'd say we've had an internet connection for approximately 1 hour since then. And try getting ahold of a technician; it's near impossible..... I miss my cable!! We don't get cable out here so we had no choice but to try the other service. I'm not going to give up quite yet though. We called the neighbor down the street, who also has this service, and he said he had the same problem the first few days after he got the service. SO, maybe there's hope yet. I'll keep ya posted! In case you don't see me on here much, it's either because I'm drowning in boxes, or because we have no internet connection.......but don't give up on me!

I must go visit a few family and friends now (online, of course). I hope all is well with everyone. Keep your fingers crossed that our internet connection is here to stay!! =)

P.S. Lookin' for another photo scavenger hunt?? Hop on over to 26 Things Christmas!! Looks like fun!! Anybody in?? Thanks, Shirl, for the link! =)


feeling...